China's treatment of Uighurs is 'embarrassment for humanity', says Turkey
Ankara calls for UN to act on 'human tragedy' of re-education of the Turkic-speaking minority in Xinjiang province
Agence-France Presse
Sun 10 Feb 2019 01.38 GMT
Shares1.417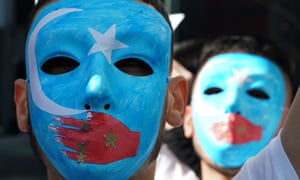 Turkey has condemned China's treatment of its Muslim ethnic Uighur people as "a great embarrassment for humanity", adding to rights groups' recent criticism over mass detentions of the Turkic-speaking minority.
"The systematic assimilation policy of Chinese authorities towards Uighur Turks is a great embarrassment for humanity," Turkish foreign ministry spokesman Hami Aksoy said in a statement.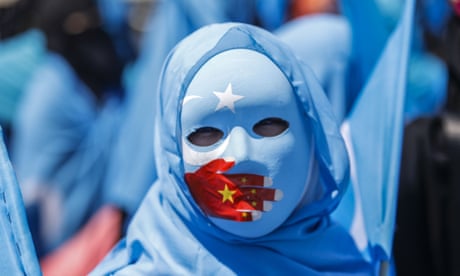 Read more
Aksoy also said Turkey had learned of the "tragic" death in custody on Saturday of Uighur poet and musician Abdurehim Heyit.
"We've learned with great sorrow that dignified poet Abdurehim Heyit, who was sentenced to eight years in prison for his compositions, died in the second year of his imprisonment," he said.
"This tragic incident has further strengthened the Turkish public's reaction to the serious human rights violations in Xinjiang region."Advertisement
The north-west Xinjiang region of China, where most Uighurs live, has been under heavy police surveillance in recent years, after violent inter-ethnic tensions.
Nearly one million Uighurs and other Turkic language-speaking minorities in China have reportedly been held in re-education camps, according to a UN panel of experts.
Beijing says the "vocational education centres" help people steer clear of terrorism and allow them to be reintegrated into society.
But critics say China is seeking to assimilate Xinjiang's minority population and suppress religious and cultural practices that conflict with communist ideology and the dominant Han culture.
"It is no longer a secret that more than one million Uighur Turks – who are exposed to arbitrary arrests – are subjected to torture and political brainwashing in concentration centres and prisons," Aksoy said in the Turkish foreign ministry statement.
"Uighurs who are not detained in the camps are also under great pressure," he added.
Turkey called on the international community and the UN secretary general, António Guterres, "to take effective steps to end the human tragedy in Xinjiang region".
Most mainly Muslim countries have not been vocal on the issue, not criticising the government in China, which is an important trading partner.
Since you're here…
… we have a small favour to ask. This is The Guardian's model for open, independent journalism: available to everyone, funded by our readers. Readers' support powers our work, giving our reporting impact and safeguarding our essential editorial independence. This means the responsibility for protecting independent journalism is shared, empowering us all to bring about real change around the world. Your support gives Guardian journalists the time, space and freedom to report with tenacity and rigor, to shed light where others won't. It emboldens us to challenge authority and question the status quo. We have chosen an approach that allows us to keep our journalism accessible to all, regardless of where they live or what they can afford. This means we can foster inclusivity, diversity, make space for debate, inspire conversation – so more people, across the world, have access to accurate information with integrity at its heart.
The Guardian is editorially independent, meaning we set our own agenda. Our journalism is free from commercial bias and not influenced by billionaire owners, politicians or shareholders. No one edits our editor. No one steers our opinion. This is important as it enables us to give a voice to those less heard, challenge the powerful and hold them to account. It's what makes us different to so many others in the media, at a time when factual, honest reporting is critical.
Every contribution we receive from readers like you, big or small, goes directly into funding our journalism. This support enables us to keep working as we do – but we must maintain and build on it for every year to come. Support The Guardian from as little as £1 – and it only takes a minute. Thank you.Support The Guardian
Topics