SAUDI ARABIA'S MOHAMMED BIN SALMAN DEFENDS CHINA'S USE OF CONCENTRATION CAMPS FOR MUSLIMS DURING VISIT TO BEIJING
BY CRISTINA MAZA ON 2/22/19 AT 9:24 AMPauseUnmuteCurrent Time?0:00Duration?1:24Loaded: 0%Progress: 0%QualityHDFullscreenDonald Trump Defends Saudi Arabia Despite Khashoggi Murder: 'It's All About America First'SHAREWORLDINTERNATIONAL AFFAIRSRELIGION
As he faces criticism from Western countries over the brutal murder of Saudi journalist Jamal Khashoggi, Saudi Arabia's young crown prince Mohammed bin Salman is forming new alliances.
On Friday, the leader colloquially known as MBS arrived in China, another country accused of authoritarianism, to meet with officials there. He was greeted by China's Vice Premier Han Zheng and signed key agreements with Beijing related to energy production and the chemical industry. During his visit, he also appeared to defend China's use of re-education camps for its country's Muslim population.
"China has the right to carry out anti-terrorism and de-extremization work for its national security," the crown prince was quoted as saying on Chinese television.View image on Twitter
Saudi Crown Prince Mohammed said during meeting with Xi Jinping "China has the right to carry out anti-terrorism and de-extremization work for its national security." -reported CCTV 7PM News.16012:36 PM – Feb 22, 2019235 people are talking about thisTwitter Ads info and privacy
China has detained an estimated 1 million Uighur Muslims in concentration camps, where they are undergoing re-education programs allegedly intended to combat extremism. The Uighur are an ethnic Turkic group that practices Islam and lives in Western China and parts of Central Asia. Beijing has accused the Uighur in its Western Xinjiang region of supporting terrorism and implemented a surveillance regime. Millions of Muslims are also allegedly being forced to study communist doctrine in the camps.
"The Chinese government has long carried out repressive policies against the Turkic Muslim peoples in the Xinjiang Uyghur Autonomous Region (XUAR) in northwest China. These efforts have been dramatically scaled up since late 2016, when Communist Party Secretary Chen Quanguo relocated from the Tibet Autonomous Region to assume leadership of Xinjiang," read a report from the organization Human Rights Watch.
Saudi Arabia's Mohammed bin Salman at the G20 opening ceremony at Hangzhou International Expo Center in Hangzhou, China, on September 4, 2016.NICOLAS ASFOURI/GETTY IMAGES
"There have been reports of deaths in the political education camps, raising concerns about physical and psychological abuse, as well as stress from poor conditions, overcrowding, and indefinite confinement," the report continued. "While basic medical care is available, people are held even when they have serious illnesses or are elderly; there are also children in their teens, pregnant and breastfeeding women, and people with disabilities. Former detainees reported suicide attempts and harsh punishments for disobedience in the facilities."View image on Twitter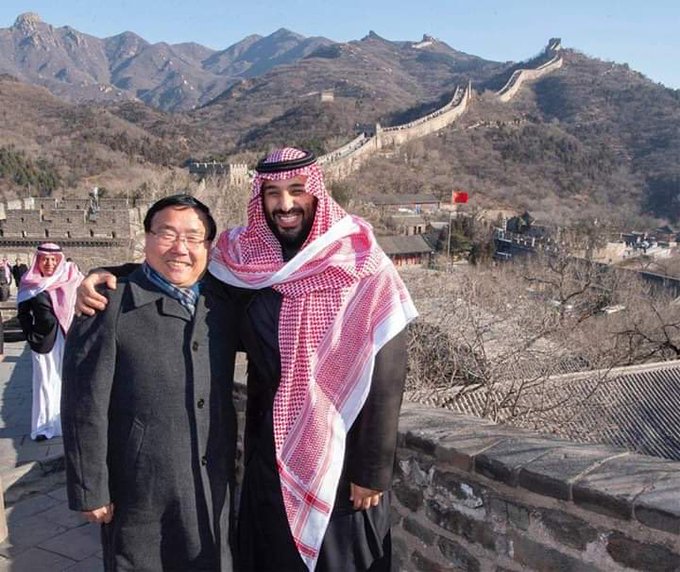 Abdugheni Sabit@AbdugheniSabit
Mohammad Bin Salman is in #China – Will he bring up the plight of #Uyghur #Muslims in East #Turkistan .

Møre than two million #Uyghurs have been sent to concentration camps where they are forced to denounce #Islam and pledge allegiance to the #Chinese communist party.8310:00 PM – Feb 21, 2019103 people are talking about thisTwitter Ads info and privacy
China claimed the camps were vocational training schools.
Uighur groups called on Mohammed bin Salman to use his official visit to pressure China on the issue of the concentration camps, as Saudi Arabia has traditionally been a defender of the rights of Muslims worldwide.RELATED STORIES
But under the leadership of the young crown prince, the country's leadership has become more pragmatic in its pursuit of foreign policy interests. For example, Saudi Arabia has reportedly started developing closer ties with Israel despite persistent complaints from human rights groups about the country's treatment of Palestinians. The tentative alliance is meant to sideline Iran, Israel and Saudi Arabia's mutual enemy.
Mohammed bin Salman will also meet China's President Xi Jingping during his visit to the country. China and Saudi Arabia have close economic ties, having done an estimated $63 billion worth of trade in 2018.
The killing of Washington Post columnist Khashoggi in the Saudi consulate in Turkey in October 2018 isolated Saudi Arabia internationally. The U.S. intelligence community determined that Mohammad bin Salman was responsible for orchestrating the murder. REQUEST REPRINT OR SUBMIT CORRECTIONAds by Revcontent
Promoted Links